"The point is, art never stopped a war and never got anybody a job. That was never its function. Art cannot change events. But it can change people. It can affect people so that they are changed…because people are changed by art – enriched, ennobled, encouraged – they then act in a way that may affect the course of events…by the way they vote, they behave, the way they think." -Leonard Bernstein (John Gruen interview in Los Angeles Times, December 31, 1972)
I awoke to yet another text from my mother: "R U OK?" Why wouldn't I be? I hadn't been doing anything too dangerous (recently), and I had called my parents just days prior, so they knew that I was alive. Opening my favorite news app, I then read about the newest horrific event – again.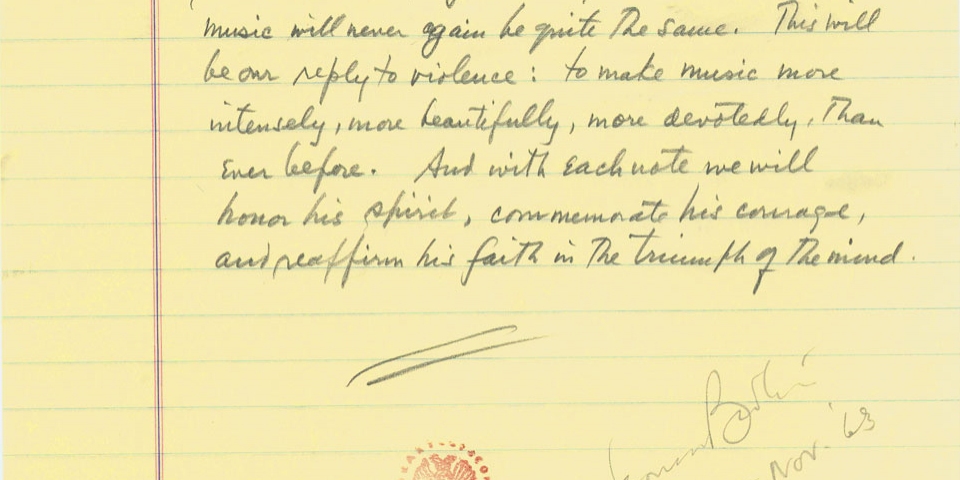 Source: leonardbernstein.com/about/humanitarian/an-artists-response-to-violence
Traveling frequently between New York and Denver (and everywhere else we find ourselves as musicians with active performance and lecture schedules), my parents generally assume that I'm wherever the day's bad news is occurring. Whenever I learn of such incidents, I think back to my two favorite quotes about music, both of which address music's role in coping with a world in which appalling episodes are a daily occurrence. The first quote, offered by Thoreau, articulates music's ability to offer respite: "When I hear music, I fear no danger. I am invulnerable. I see no foe. I am related to the earliest times, and to the latest." In the second, written just after the assassination of JFK, Leonard Bernstein beseeches artists to participate actively in Thoreau's musical salve: "This will be our reply to violence: to make music more intensely, more beautifully, more devotedly than ever before." (The Bernstein at 100 site provides more information about his famous letter, pictured above).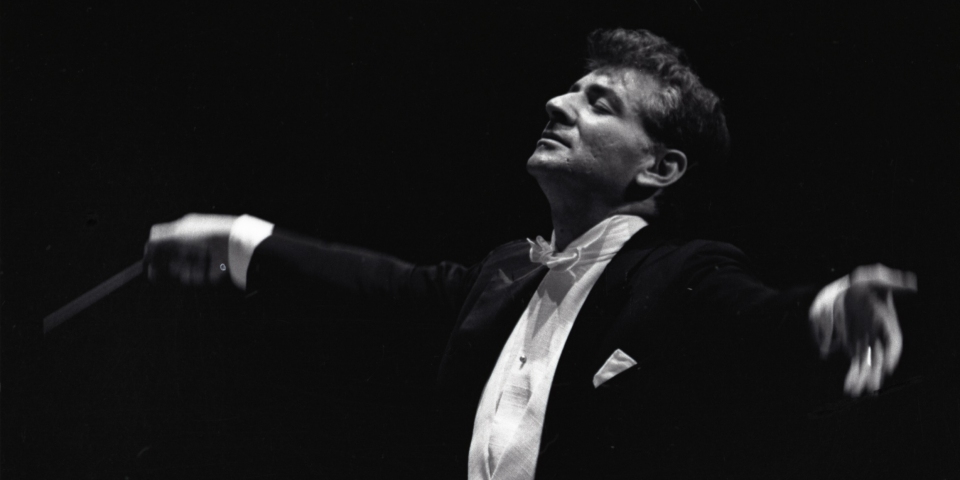 As Emily and I discussed goals and themes for the 2018 season, relevancy emerged as a central thesis. How is CBMF and its events relevant to the local community, the region, and, more generally, society? How can CBMF be an effective community partner and provide those powerful virtues that Thoreau and Bernstein ascribe singularly to music? Eventually, we arrived at an excerpt from the above Bernstein quote as an organizing principle: To Make Music More – more fun, more diverse, more communal, more relevant. We believe that this season CBMF is presenting its most diverse, fun, and communal array of programming, whilst imparting an energizing, festive atmosphere in Crested Butte. Crested Buttians will have the opportunity to engage with performers of various backgrounds, broaden horizons, and have a good time doing it.
The 2018 season will be a celebration of Leonard Bernstein's 100th birthday. I've felt a personal connection to Bernstein since my earliest days as a musician. Before I began studying the viola at the relatively ripe age of 10, I was a listener. My appetite for music was unquenchable. For example, as an award for achieving a goal time in the 50-freestyle, my parents offered me a new video game console; instead, I requested a CD player. With that Sony boombox, I embarked as a digital pioneer, selecting a set of CDs ranging from Haydn's string quartets to Brahms' symphonies. Among the albums were recordings by Bernstein, both as a conductor, composer, and pianist. Immediately I was drawn to his style of music making; his interpretations were the antithesis of the sterile and lifeless performances practiced by so many classical musicians. By the time of my high school graduation, my CD compilation had wandered into the four figures; Bernstein's recordings, from his cycles of Mahler and Beethoven symphonies to his surveys of chamber music at the keyboard, were still my favorites and central to my collection. His understanding of the vitality and necessity of music was transmitted through the loudspeakers – he was making music more. (A later blog post will discuss my favorite Bernstein recordings.)
My high school music director introduced me to Bernstein's Young Person's Concerts. Even in my formative years, I could recognize the importance of these works of art. I can't recall how many times I've heard from audience members post-concert that they were in attendance because they developed a love of music from these Young Person's Concerts. (Performing as soloist with the New York Philharmonic on a YPC, many years after Bernstein established the series, is one of my most treasured musical experiences.) Bernstein's legacy as an educator is unmatched, and today I view his work in education – from YPC to lectures to writing – to be his most important endowment. Similarly, Emily and I view CBMF's substantial and diverse educational programs to be the most important work that the Festival undertakes. These programs offer an outlet for a wider populace to engage with those powerful elements of music as cited by Thoreau and Bernstein, and will hopefully help to preserve art music's legacy moving forward.
Here are my favorite Bernstein education clips: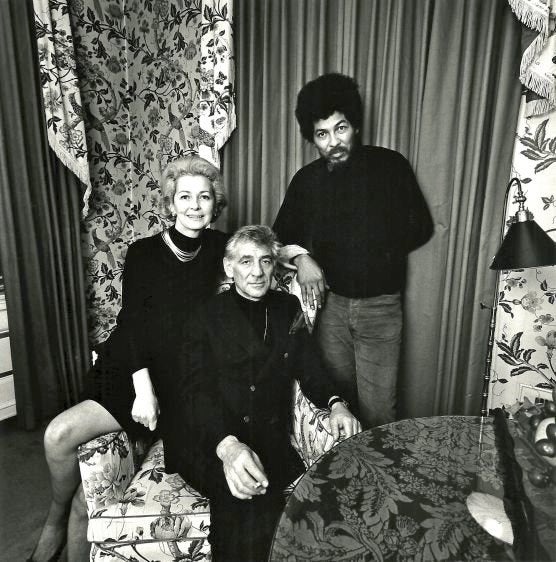 Source: huffingtonpost.com
Why make music? As my career progresses, I increasingly ponder this question. What continues to make music relevant? Of course, any number of philosophers have ascribed to the art an unmatched transformative and communicative capacity. (I could offer a rather lengthy disquisition on the topic, and those who know me are well aware that I'm happy to do so.) However, I also contemplate Bernstein's view that the arts and artists are, by nature and necessity, motivators of social change. (Jamie Bernstein, Leonard's daughter, writes about the famous and misunderstood Black Panther fundraiser HERE.) Joseph Polisi, the longtime president of my alma mater, The Juilliard School, referred to this charge as The Artist as Citizen. Artists (and festivals) and audiences can take inspiration from Bernstein's championing of underrepresented voices. CBMF is certainly proud to do so this season, presenting its most diverse lineup of music and musicians. Increasing the diversity of voices will not only ensure the continued relevance of art music but will enrich Crested Butte and the Gunnison Valley. We look forward to sharing with you this diversity of voice as we welcome brilliant guest artists from all corners of the country.
As one of America's most important musicians, many artists and arts organizations will be celebrating and reflecting on Bernstein during this milestone anniversary, and CBMF is thrilled to take part in that wider discussion. As we channel Bernstein's indelible musical vivacity, we also seek to preserve his legacy of advocating for musical education and for musicians participating in society as artist citizens. CBMF's 2018 season promises to be one of its best as we Make Music More … together.